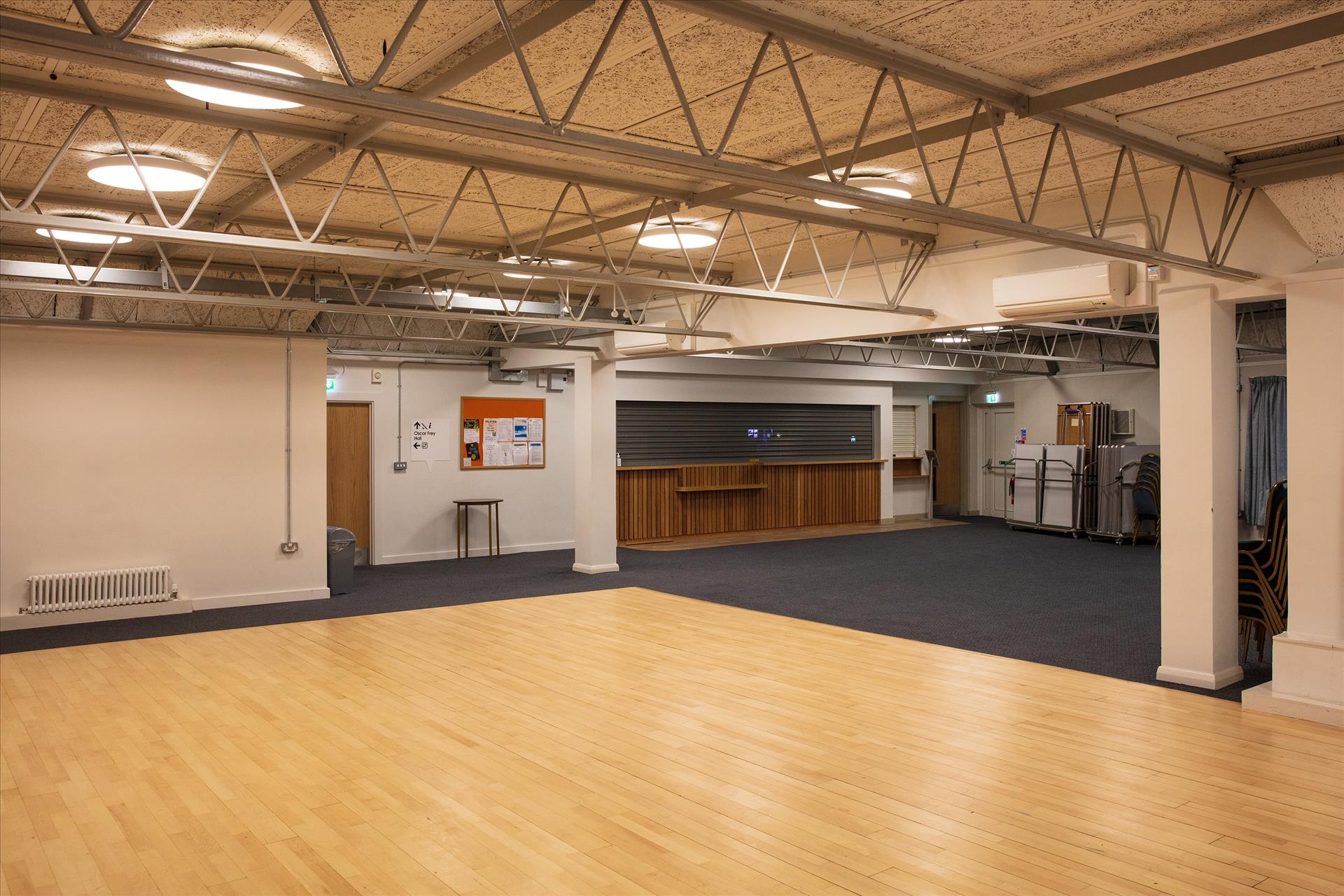 Cyril Boatman Hall
The hall can hold up to a maximum of 100 standing, 64 seated for a wedding reception.
It is mainly carpeted with a large wooden dance floor. It has five 6ft x 2ft and sixteen 4ft x 2ft tables and 70 chairs.
The Cyril Boatman Hall is available to hire on: Saturdays from 10am to 12:30am for all day hire. Daytime hire from 12 midday to 5pm, children's parties 12.00pm to 5.00pm, evening hire from 6pm to 12.30am (evening hire includes licensed bar from 7pm to 11.30pm). Sundays from 11.00am to 6.00pm.

The hall costs £40.00 per hour. Saturday set evening hire (6.00pm to 12.30am) with licensed bar £260.00. All day hire 12.00pm to 12.30am £500.00.
Enquire About The Cyril Boatman Hall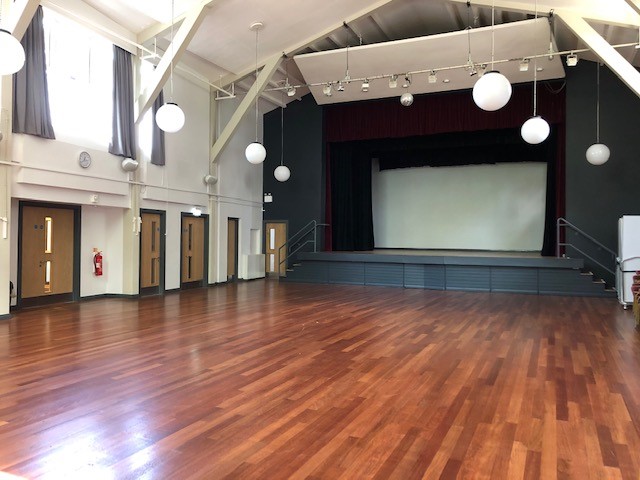 Oscar Frey Hall
The Oscar Frey Hall can seat a maximum of 150 people standing or for a performance. Seated at tables 110. It has a raised stage ideal for small performances. Sound and lighting is available on agreement.
There is a small dressing room and toilet side stage. The hall also has a licensed bar, its own kitchen and toilets, including a disabled toilet and nappy changing facilities.
Evening hire is from 6pm to 12.30am (includes a licensed bar open from 7pm to 11.30pm)Saturday evening hire is a set price of £310.00. Hourly hall hire rate is £50.00 per hour. All day hire is £700. Sunday times are 11am to 6pm.
Enquire about The Oscar Frey Hall
community centre
Children's Parties
On Saturday afternoon between 12.00pm and 5.00pm and Sunday afternoons between 12.00pm and 6.00pm we charge a special rate of £65.00 for 3 hours and £80 for 4 hours for children aged between 2 years and 10 years old. This price includes setting up and clearing away time.
*Please note special children's party rate is for a maximum of 4 hours in the Cyril Boatman hall. The hall can only accommodate bouncy castles under 6 foot 6 inches.
...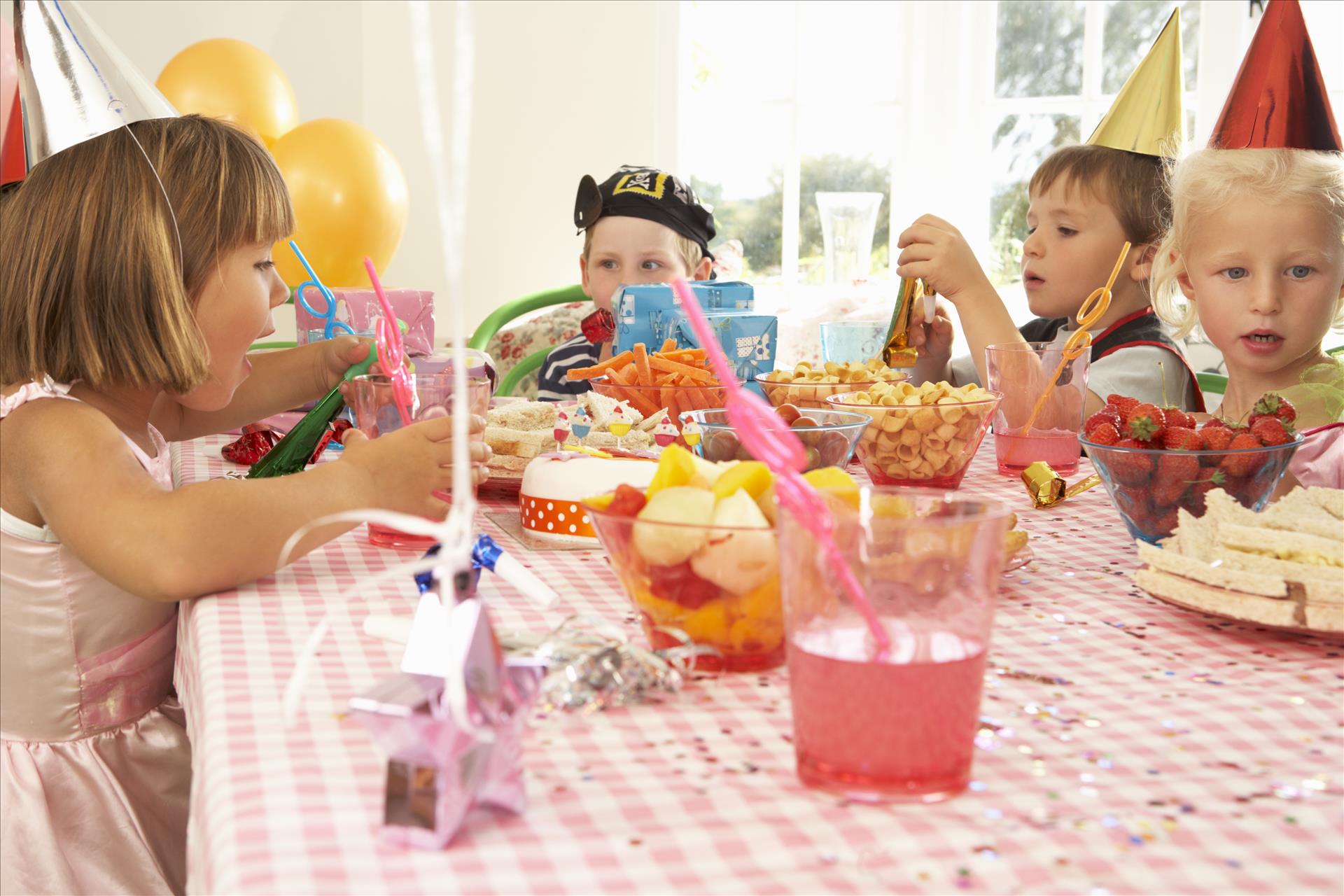 Facilities
The Community Centre is a secure premises, you will be given the instructions on how to access the building when your hire is confirmed.
Both halls have their own tables and chairs for hirers use. Please note we do not hire for teenage parties including 16th and 18th birthdays.
Business Meeting Rooms
The Padcroft Room: This room is perfect for training for small groups. It can seat a maximum of 4O people, 30 comfortably at tables and is light, airy and well ventilated. The room is equipped with Business TV, white board, flip chart, free WIFI and facilities for tea and coffee available. The cost of hire is £35.00 per hour. The Padcroft is available on weekday evenings until 10.30pm and daytime at the weekends
The Centre has a smaller quiet meeting room the Drayton Room, suitable for small groups of up to 15 or ideal for one to one interviews etc. It has a whiteboard flip chart, free WIFI and access for tea and coffee. It is available on weekday evenings until 10.30pm and daytime at the weekends . The cost is £16.00 per hour.
For evening meetings on Mondays, Wednesdays, Thursdays and Fridays there will be access to the Orchard Lounge Bar.
There is a 44 space free car park at the premises, parking is on a first come first served basis.

Please email bookings@theywd.org.uk for details.
For our Terms and Conditions of Hire please click terms and conditions of hire
Licensed Premises
The Yiewsley and West Drayton Community Centre is a fully licensed premise with the London Borough of Hillingdon. The managing company of the Community Centre is the Yiewsley and West Drayton Community Association which is a registered charity supported by the West Drayton Social Club Ltd. The social club is responsible for the running of all bars in the halls as the Charity does not profit from the sale of alcohol.
On Saturday evenings in order to maintain a member of staff must be present on the premises, your hire will include the opening of our licensed bar. The bar is staffed by members of the West Drayton Social Club and sells a wide variety of alcoholic and soft drinks.
The bar manager is very happy to try and accommodate any special requirements that you may have for your function, such as toast for a wedding. The manager can be dealt with directly once you have confirmed your booking.
When your function includes the bar being open in your hall you are forbidden to bring in any drinks of your own this includes soft drinks and bottled water. The Social Club staff reserve the right to confiscate any drinks bought on to the premises when the bar is open in the halls and the hirers deposit may be kept in full.
To book one of the halls please call 01895 443423 or 07484523277, you can also email bookings@ywdcc.org.uk or you can use the contact page.
To contact the bar manager with any queries please email sarahwdscbarmanager@gmail.com or text 07549 343156 and Sarah will get back to you.